Tweet
Fans of the popular daytime TV show The Drs can now look for a new book that is out. Doctor Travis has put a lot of time and effort into this new book. It appears to be an easier way to adapt to a better daily diet. The book really doesn't tell you to "not do" anything; but rather to limit some of the things and choices you do make each and everyday.

This latest medical book is called The Doctors Diet. It's packed with a lot of helpful advice to get you and every one at home eating better. If your family is in need of a nutritional makeover; then this would be a good starting point. Dr. Travis didn't just put things in the book for all of us to do, but he actually lives by this book him self. I think that is very important to know, when you do start a new diet plan. Often it is easy to give advice and tell others what to do, but rarely do we see the folks giving the advice, actually doing it their self. Doctor Travis, from the Drs TV Show, is following the advice of The Doctors Diet book, in which he wrote.
Now that January is almost over, have you been able to stick to your New Year's Resolution? Since a lot of us out there probably made a resolution to not eat junk food, fatty foods, gluten foods, high carb foods, or some other diet plan. Perhaps losing weight was the exact goal and eating a healthy diet was just part of the plan. If that is the case, I'm sure exercise was high on your list of things to do. Since the weather has been so cold outside, has this hurt any of your outdoor plans to exercise? Winter can be a hard time to start an exercise program. Especially with all of this cold weather that we have been getting lately. I never thought I would be learning about a polar vortex this winter. You know, that rotation up in Canada that sends a ton of arctic cold air down to the lower 48 states. Especially to the Midwest and Eastern states. Normally excuses are not accepted in a diet or exercise plan. I believe the cold winter weather is an excuse that we can live with for now. It's better to be safe than cold, right? No one needs to be risking any outdoor exercises, that you might have wanted to be doing by now.
For those of you that have given up on your New Year's Resolutions, it's time we start a new one. Let's wait for the weather to warm up outside, before we do those jogs around the neighborhood. For now, we can do a few sit ups and push ups to keep our blood flowing. Maybe even do a few aerobics from a YouTube video to get our bodies use to exercising. Also, while we wait for the weather to get nicer outside, this would be a good time to order Doctor Travis' new book The Doctors Diet. You can order it online and have it shipped out to you in a week or two. While you wait for your book, The Doctors Diet, you can get your body use to stretching and come up with your own daily food menu. Develop your own routine for eating and exercising. Then once your book arrives, you can then make adjustments (where needed) and learn about some new things from the book.
How often do you eat nuts? If you watched the Doctors TV Show, where they were talking about Doctor Travis' new book, you would have gotten some very valuable information. We all could use a few extra nuts in our daily diets (assuming you or no one in your family is allergic to them). You might be able to make a case that nuts are the most important single piece of food there is! I'm serious! Even when comparing it to broccoli or spinach, it might help the body in more areas than a green, leafy vegetable could. Just wait until you get your book and you will be able to read about nuts and other foods that provide some real value to the body. Foods that are not just good for one thing, but have multi-purposes for maintaining good health.
The Doctor's Diet: Dr. Travis Stork's STAT Program to Help You Lose Weight & Restore Your Health
*Stay on Plan
*Think Ahead
*Size Up Your Size
*Get Served
*Give Protein a Hand
*Choose Drinks that Accelerate Weight Loss
*Keep It Real
*Fill Up with H2O
*Scramble It Up
*Go Low with Dairy Fat
*Spice is Nice
*Slip the Skip
*Focus on Fat Burning Fruits
*Fill'er Up
*Get Ready for Fast Results
Dr. Phil with Guest Host Dr. Travis Stork and the STAT Diet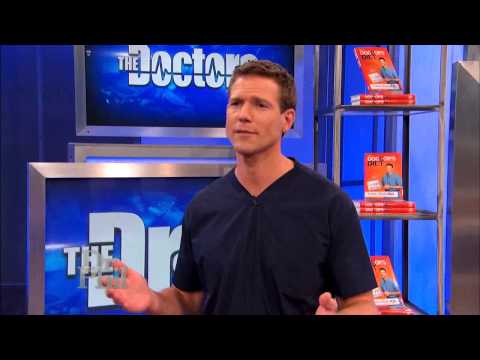 It's not too late to make a New Year's Resolution for 2014. In fact, let's make 2014 the year we all remember. While the last few years may all fade together, with all the bad habits we currently have or were doing back then. Let's all get started now and begin at the same point. If we all hop on the STAT Diet Plan now, we can travel down the tracks as a group. Not only will we make 2014 a year to remember, just imagine how good we will all feel when 2015 rolls around? The Doctors Diet book is going to provide positive results a lot sooner than that. I just think if we all stick to a great diet plan like this one, we will really have something to celebrate in a year from now. So January 1st is not our "New Year". The day your book arrives in the mail, will become your new "New Year's Day of Healthy Living". I can't wait to get started and I look forward to hearing back from all of you. Please feel free to ask any questions or leave your comments below. I will get back to you ASAP!
This entry was posted in
Doctors TV
and tagged
blue doctors book
,
blue dr travis book
,
doctor masterson
,
doctor ordon
,
doctor sears
,
doctor travis stork
,
doctors diet book
,
doctors stat
,
doctors tv show books
,
dr lisa masterson
,
dr travis
,
dr travis new book
,
dr. masterson
,
dr. ordon
,
dr. sears
,
drs diet book
,
drs stat plan
,
drs tv
,
drs tv book travis stork
,
jim sears
,
lisa drs tv show
,
new doctors book
,
new drs book
,
stat diet
,
stat diet by drs
,
stat diet plan
,
stat program
,
television doctor with orange diet book
,
travis doctors diet
,
travis new diet book
,
travis stat program
,
travis stork
,
tv book from the drs show
. Bookmark the
permalink
.